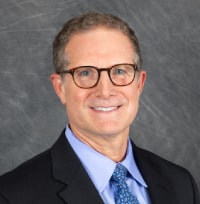 David L. Walner, M.D.
Dr. Walner was born and raised in the Chicago area. He attended undergraduate school at the University of Illinois at Urbana-Champaign, his medical degree at the Chicago Medical School, a general surgery internship at Northwestern Memorial Hospital in Chicago, and an otolaryngology (Ear, Nose and Throat) residency at the historic University of Illinois Eye & Ear Infirmary in Chicago, Illinois. Dr. Walner then completed a pediatric otolaryngology fellowship at the prestigious Children's Hospital Medical Center in Cincinnati.
Dr. Walner has expertise, experience, and has given numerous lectures on pediatric airway and pediatric ear, nose and throat disorders. These include problems involving the tonsils and adenoids, larynx and trachea, in addition to pediatric sinusitis and ear disease. He has been featured on NBC 5 News, WGN TV News, and CBS TV News, Wall Street Journal, as well as the Chicago Tribune and Pioneer Press newspapers. Dr. Walner was named a Chicago area Top Doctor 2008; and listed among America's Top Surgeons and Top Physicians in 2010.
In addition to Dr. Walner's private practice, he holds a teaching appointment at Rush University Medical Center where he is an Associate Professor of Pediatric Otolaryngology.
Dr. Walner is board certified by the American Academy of Otolaryngology-Head & Neck Surgery. He is an active member of the following organizations: American Academy of Pediatrics, American Society of Pediatric Otolaryngology, American Medical Association, and the American College of Surgeons. He is co-director of the Pediatric Airway Center of Chicago.
Dr. Walner is on staff at Lutheran General Children's Hospital, Children's Memorial Hospital / Lurie Children's Hospital of Chicago, Rush University Medical Center, NorthShore University Hospitals (Skokie, Highland Park, Evanston, and Glenbrook), and the Golf Surgical Center.
Patient Reviews